Dec 08, 2022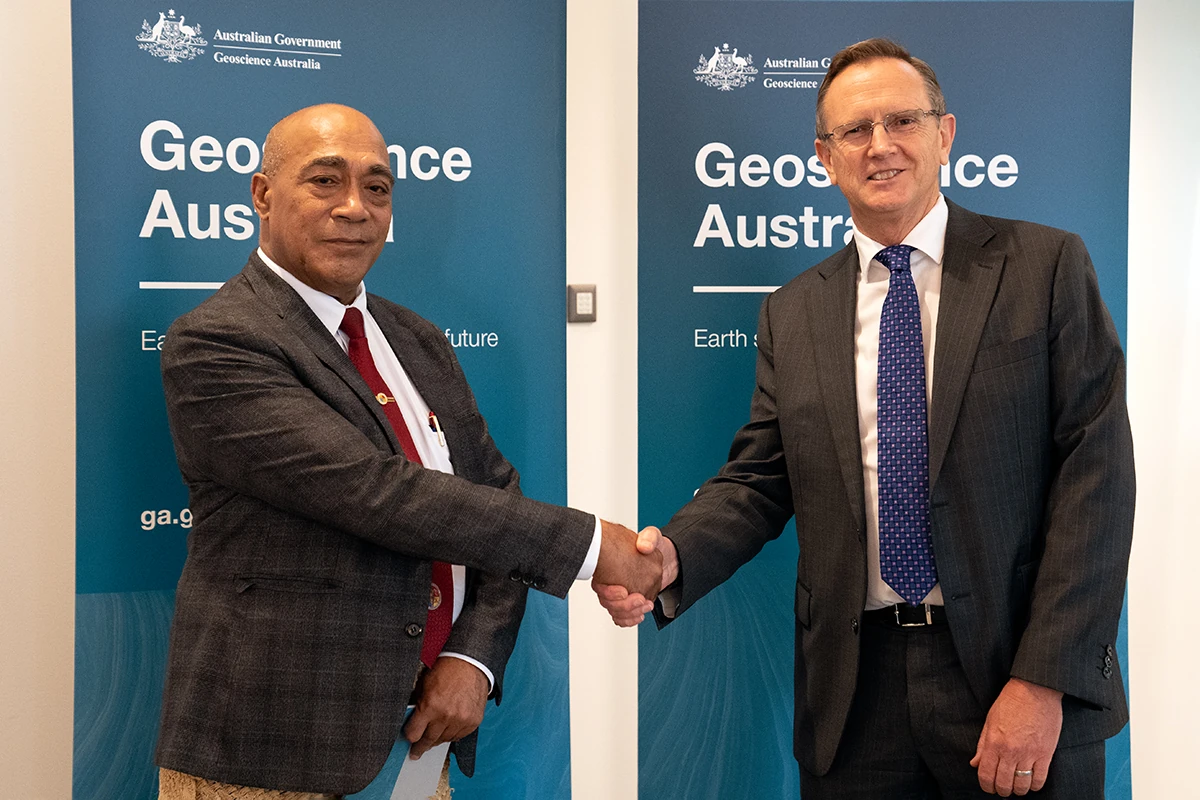 The Government of Tonga's Minister for Lands and Natural Resources, the Hon Lord Tu'i'afitu, has visited Geoscience Australia to relay his nation's thanks to staff who responded to the Hunga Tonga-Hunga Ha'apai volcano explosion in January.
Lord Tu'i'afitu said that the Australian government had provided a great amount of financial and humanitarian aid to support the relief, and recovery and reconstruction processes for the affected after the 15 January Tonga volcanic eruption and tsunami.
"The expert technical advice, satellite derived information and analysis from Geoscience Australia not only helped Tonga better understand these disasters but more importantly, develop a plan for future disasters of similar nature," he said.
"Tonga needs to employ and improve its accessibility to, utilisation of and its capabilities in space and satellite technologies to safeguard its security and guarantee safety for all…the ministry is looking at Geoscience Australia, a long-time partner for support."
Geoscience Australia Chief Executive Officer, Dr James Johnson, said he was thrilled to welcome Lord Tu'i'afitu to Geoscience Australia's offices in Canberra.
"We have a very positive relationship with the Government of Tonga, and this has given us a great opportunity to further develop that friendship," Dr Johnson said.
"Our seismic monitoring kits were on the ground in Tonga within weeks of the eruption and we immediately started working with the Government of Tonga, DFAT, and the Bureau of Meteorology to re-establish this vital scientific monitoring capability.
"Eleven months on from the eruption, we are delighted to welcome Lord Tu'i'afitu to meet some of the people who helped to do this work.
"We thank Lord Tu'i'afitu for visiting as part of our ongoing relationship with the Government of Tonga."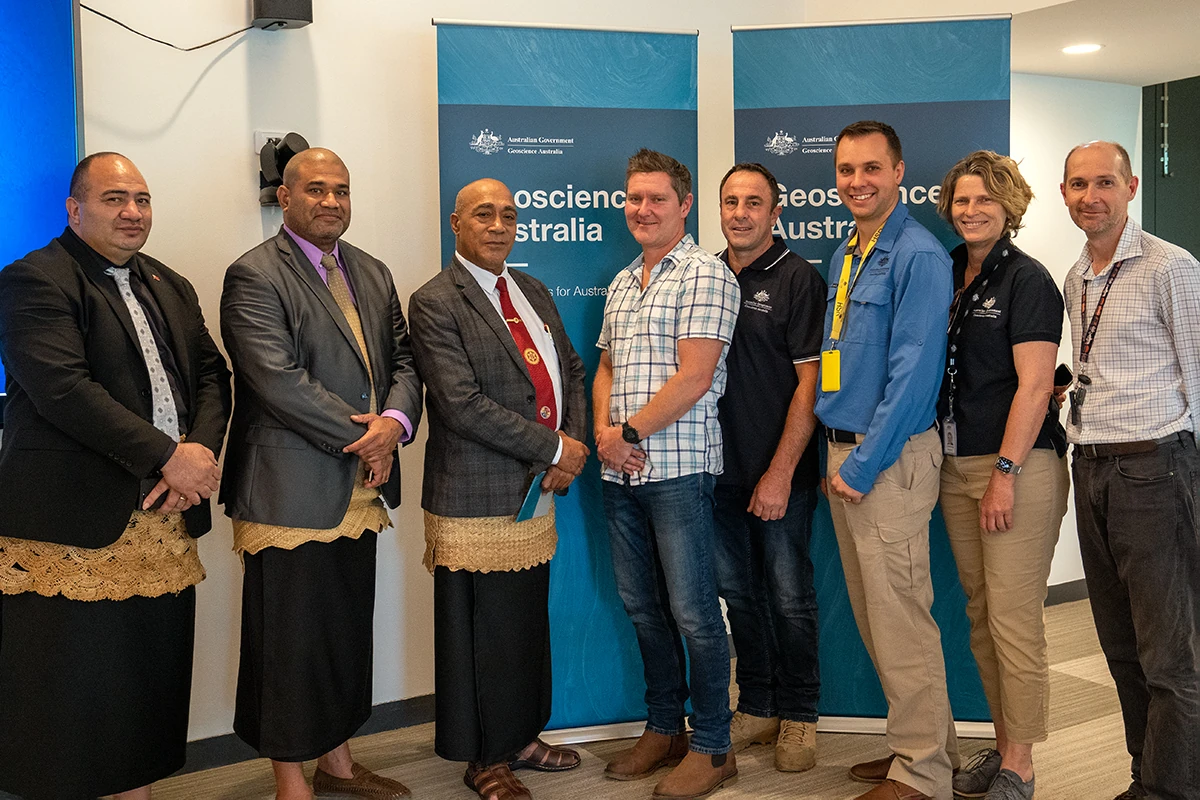 Lord Tu'i'afitu also had valuable discussions with Geoscience Australia's experts about the possibilities Earth sciences can bring to both countries, particularly in the field of disaster risk reduction.
Geoscience Australia's Branch Head of Community Safety, Dr John Dawson said Tonga had many potential natural hazards.
"Volcanoes, earthquakes, cyclones, possible tsunamis - this is why they need good data. You can't make a plan if you don't know what you're dealing with," Dr Dawson said.
"And it's not just about monitoring the hazards. It's really important to understand the environment and landscape, and how they change over time."
Dr Dawson said Geoscience Australia and the Government of Tonga had a shared interest in improving the monitoring and understanding of geohazards – the January Hunga Tonga-Hunga Ha'apai volcanic eruption generated a tsunami that reached Australia.
"That's why the meeting with Lord Tu'i'afitu has been so valuable. The meeting has improved the Government of Tonga and Geoscience Australia's understanding of each other's capabilities and how we may potentially be able to help each other in the future," Dr Dawson said.
The seismic monitoring is just one type of data that can help inform disaster risk reduction. Precise satellite positioning reference stations can track changes in the land, which helps produce accurate records of changes in absolute and relative sea level.
This data is particularly helpful when analysing the effects of seismic activity, including the recent volcanic eruption, and in developing plans for managing the impact of hazards in the Pacific.
Geoscience Australia's experts also briefed the Minister on the potential benefits to be gained from Earth observation data. This can allow a detailed understanding of how lands, waters, coasts and environments have changed over time, what changes might occur in the future, and how best to respond.
"If the Tongan authorities have well informed plans and authoritative data, this can be shared with other Pacific nations including Australia, so that we can all be better-prepared," Dr Dawson said.
Source:
Pacific cooperation for improved science and improved safety: Tonga's Minister Lord Tu'i'afitu visits Geoscience Australia | Geoscience Australia
Published Dec 08, 2022 Last update on Dec 12, 2022